May 19, 2019
Operations Departments
1116 Herring Gull Way
PO Box 1390
Parksville, BC V9P 2H3
Hours of operation
8 am to noon and 1 pm to 4 pm, Monday to Friday
For inquiries
Phone 250 248-5412
Fax 250 248-6140
Please call this number if you have an inquiry related to drainage, roads, parks, sewer, water and street lighting
After hours emergency
4 pm to 8 am, Monday to Friday plus Saturdays, Sundays and holidays
Phone 250 248-6144
Contact information for the Operations Department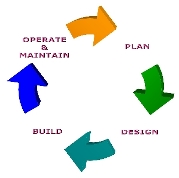 Operations Department
The operations department is proud to serve the residents and visitors of the City of Parksville. The operations department provides a variety of services which enhance the daily lives of Parksville residents and is responsible for municipal roads including ice and snow control, street lighting and traffic signals, maintenance of City parks and nature trails, the City's fleet and municipally owned properties as well as our water distribution system, sewage collection system and drainage facilities.
Operations employees are responsible for maintaining the municipal roads, water and sewer systems in safe operating condition. This department also receives requests to repair potholes, traffic signs, water mains, sewers and sidewalks.
The operations department is responsible for:
Boulevard tree pruning, tree removal
Catch basins, manhole repairs
Irrigation systems
Municipal buildings and fleet
Parks
Roads, streets, sidewalks and pathways
Sanitary sewer system, storm sewers
Snow and ice control on public streets
Spring and fall chipping program
Street sweeping, street lighting, paving and patching
Traffic signs, line painting

Copyright ©
City of Parksville
All Rights Reserved | Site by
Trinex Internet Solutions
Legal Disclaimer/Privacy Statement