Oct 3, 2023
The Arrowsmith dam is located about 35 kilometres south of Parksville. Commissioned in 2000, the dam was built as the Arrowsmith Water Service joint venture between the City of Parksville, the Regional District of Nanaimo and the Town of Qualicum Beach. The Arrowsmith dam, with a live storage volume of 9 million cubic metres, is used to supplement the Englishman River flow by releasing during the summer and fall to meet the domestic water demands and enhance fish habitat.
This is outlined in the Conditional Water Licence which governs the release of water from the reservoir. Depending on climactic conditions and seasonal requirements, conditions of the licence are adjusted in consultation with federal and provincial fishery authorities. At certain periods, the flow requirements may be reduced to ensure sufficient water is retained in the reservoir for release during September and October. Water is withdrawn from the Englishman River through the intake facility operated by the City of Parksville.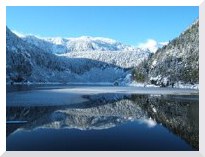 Copyright ©
City of Parksville
All Rights Reserved | Site by
Bravenet Marketing Inc.
Legal Disclaimer/Privacy Statement