May 24, 2018



Public Hearing


This event starts on Oct 7, 2013 and Runs through Oct 7, 2013

Location:
The Forum, Parksville Civic & Technology Centre
100 Jensen Avenue East

PUBLIC HEARING


Monday, October 7, 2013 - 6:00 P.M.

Notice is hereby given that a Public Hearing will be held by the Council of the City of Parksville on Monday, October 7, 2013 at 6:00 pm in the Parksville Civic and Technology Centre, 100 Jensen Avenue East, Parksville, BC to consider public representations on the following bylaw:

"ZONING AND DEVELOPMENT AMENDMENT BYLAW, 2013, NO. 2000.90" proposes to amend "City of Parksville Zoning and Development Bylaw, 1994, No. 2000".

In general terms the purpose of the proposed amendment is to change the zoning designation from 'Single Family Residential RS-1' to the 'Small Lot Residential SLR-1' zone in order to allow for a single-family residential subdivision in a small-lot format on portions of the properties legally described as:

Lots 2 and 3, District Lot 74, Nanoose District, Plan 14652 (780 Stanhope Road

and 577 Pym Street), as shown shaded in grey on the map below.

MAP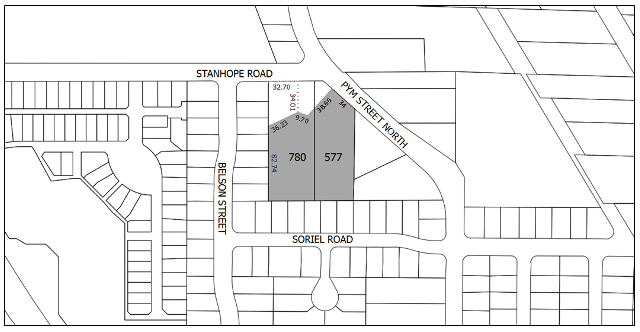 INSPECTION OF PROPOSED BYLAWS AND RELATED MATERIALS
A copy of the proposed bylaw and documents may be inspected at the planning department, Parksville Civic and Technology Centre, 100 Jensen Avenue East, Parksville, BC during regular office hours (8:00 am to 4:00 pm) weekdays, excluding statutory holidays, until Monday, October 7, 2013.
CONDUCT OF HEARING
At the Hearing, the public will be allowed to make representations to City Council respecting matters contained in the proposed bylaw and all persons who believe their interest in property is affected by the proposed bylaw shall be afforded a reasonable opportunity to be heard or to present written submissions respecting matters contained in the bylaw.


DEBBIE COMIS
Corporate Officer

This notice is published in accordance with Section 892 of the Local Government Act and Section 94 of the Community Charter.


Event Name: Public Hearing | Event Category: Public Hearing

Copyright ©
City of Parksville
All Rights Reserved | Site by
Trinex Internet Solutions
Legal Disclaimer/Privacy Statement